Welcome to Portand Dumpster Rental Boss, the specialist of waste management services in Maine. If you want your mess removed in no time, you found the right place!
✓ Get a no hassle easy dumpster rental today
✓ Fast delivery and pickup at your location
✓ Serving the Portland, ME area for over twenty years
✓ Customer friendly staff and haulers
✓ Get a quote today, call 207-360-8150 now!
✓ Local family business from ME
✓ Satisfaction guaranteed
We are proud to offer quality roll-off dumpster rental services to all residents of Portland, ME and the surrounding counties at a very affordable price. We are driven by our constant goal of providing excellent service to all our customers in need of junk removal packages, so that waste disposal becomes a no hassle job to you. We always go the extra mile as we want to make sure everyone is pleased with the quality of our garbage collection services.
We aim to provide inexpensive, trustworthy and efficient dumpster rental services in Portland. Our services are available to all homeowners as well as businesses and contractors on a temporary or permanent basis.
If you live in the Portland area and need to rent a roll-off dumpster container, please keep on reading to learn more about how it works. Renting a roll off canister from us is not complicated.
At our company Portand Dumpster Rental Boss, different sizes of dumpsters are always available in inventory, that are perfect for not only home improvement projects, but also for big construction works done for a business or a large building. If you have any landscaping job that resulted in yard clippings or branches that has to be disposed of, then we can help you complete your task of vegetal junk removal as well.
You can effortlessly rent a dumpster from us to be sent to any place in the state of Maine, and we always have a large inventory available. We have helpful staff members who will be more than happy to assist you every step of the way, so this entire process is going to be a breeze. Do not end up paying more out of your pocket by transporting garbage bags back and forth to the landfill, experience how a single dumpster container rental can satisfy all the junk disposal needs from the projects you are working on.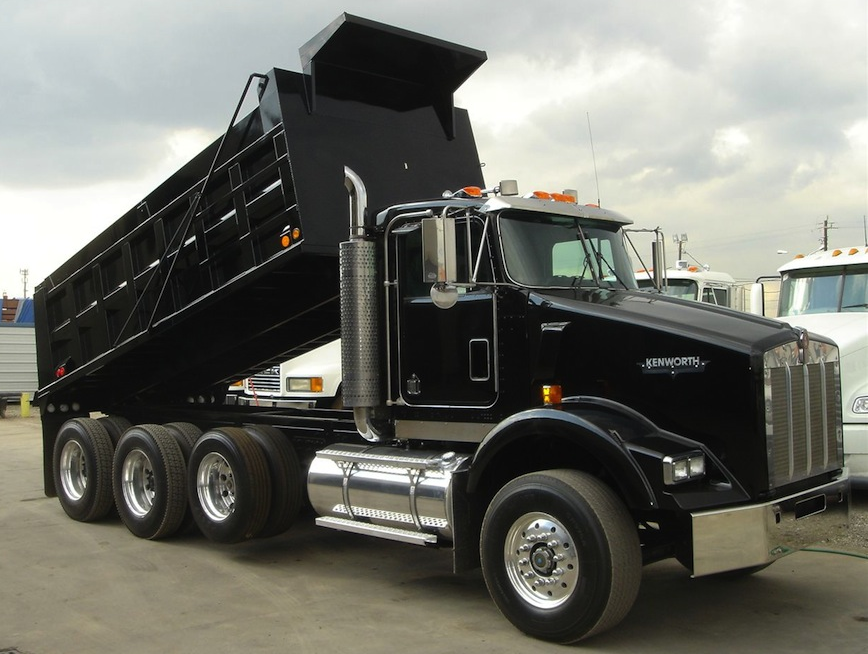 How to rent a roll-off dumpster from us
The first thing you need to do when deciding to rent a dumpster with Portand Dumpster Rental Boss is to have a better understanding of the different options and regulations concerning the rolloff rental process.
Not renting the correct size of dumpster for your project may lead to an extra cost, even though all this is supposed to be an easy task. Also you have to think about the length of time you are going to need the rental for, the appropriate size and the types of waste you will be disposing of. Not all items are acceptable, such as hazardous materials, which are highly regulated in order to protect the environment. There are items which are prohibited in the Portland's landfills, so give us a call at 207-360-8150 to learn what these prohibited items are.
Our staff members will do all the work in loading all of your garbage or rubbish once you pick the full service. We have a variety of options for you. We can discuss over the phone the type of services you would like to hire, and the dumpster size requirement for your project. We are happy to assist you in completing your clean-up job.
But keep in mind that there are some restrictions regarding what types of items can be disposed of. In order to ensure both our safety, we cannot dispose of the following materials: liquids, propane tanks, cylinders, paints, aerosol cans, tires, toxic materials, flammable items or any other hazardous wastes.
Here is a list of the type of projects we most commonly deal with:
Roofing Material Disposal
Walkways Clean Ups
Demolition
Gravel, Rocks, Bricks Hauling Away
Construction Clean Ups
Flooring Projects
Back-yard and Garage Clean up
Please note that the placement of your dumpster rental could be dependent on obtaining a permit from the city. Some parts of Portland, ME and the neighboring cities require a permit especially if the dumpster is placed on the street, which is public property. It is necessary for you to obtain information from us first, and it will depend on your exact location and circumstances.
If you are still not sure how to go about this, the entire team at Portand Dumpster Rental Boss is more than willing to help you. We can support you for permits for the dumpsters that we rent out at Portland and can assist you in finding the proper area to put the dumpster that is in accordance with the City of Portland's rules and regulations.
Most dumpster rental businesses in the state of Maine have a rule that may charge you extra fees if you go over the weight limit, so it is essential to calculate your needs cautiously.
Yard dumpster rental is a convenient and cost-effective solution for managing waste and debris during various projects.
What is good is that the roll-off dumpsters we offer come in different shapes and sizes where the most frequently used are the 10 to 30 cubic yard containers. If you don't have the experience yet of renting a dumpster in Portland, ME, you may be unsure of what size you should get for your specific work. It can be hard to estimate the size of the junk coming from your project because most often the containers look so big, but they can nevertheless fill up quickly.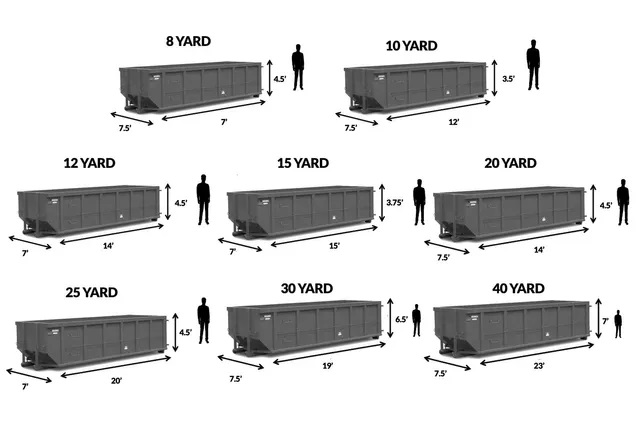 How to choose a dumpster size
Generally, for an average home renovation task in Portland, you can get it done with a 20 cubic yard dumpster, except if you have large objects you are discarding.
A roofing dumpster is a vital tool in construction and renovation projects, the smart choice would be a 40-yard dumpster. No worries, as we can assist you with all your needs including helping you determine which size is best for you.
Below are examples of container sizes used for common projects that require a dumpster rental in the city of Portland.
10 yard dumpster – small remodeling projects and medium sized clean-ups.
20 yard dumpster – medium sized renovation projects and large home cleanup projects.
30 yard dumpster – normally used for larger remodeling and renovations.
40 yard dumpster – are only used for the largest of projects including demolitions.
Another factor to consider when picking your dumpster is the weight limitations and capacities. We have weight capacities on every load and going over that limit may lead to an additional fee. Also throwing too many heavy things into the dumpster may lead to damages to your property, so it's a wise idea to be cautious on the waste capacity you will require. We suggest to overestimate your weight rather than underestimate it to be sure to accommodate all the waste materials and debris and to avoid paying for an additional dumpster rental.
Always keep in mind that size matters when throwing these unwanted debris and waste materials into the rolloff dumpster. If you merely have a few large items, such as a couch, old furniture or some home appliances, then it may be best to select our junk removal services rather than getting a dumpster rented.
But if you are only planning on to clean out some rooms or your attic at home or any junk in your garage, you may pick one of our ten cubic-yard sized dumpsters. As we have mentioned above, there are some items we do not accept, so make sure to discuss with us what your plans are.
Most trusted dumpster rentals in Portland
Let Portand Dumpster Rental Boss do your job for you more comfortably.
Just give us a call today at 207-360-8150 and our skilled and experienced staff will make sure that you are getting the most reasonable rate with a rapid delivery service for your dumpster container rental project.
So if you need to schedule a few bins or a roll-off dumpster rental near me to dispose of your refuse, junk items and waste materials, call 207-360-8150 now and all your questions will be answered by our experinced staff. It can be backyard debris even trees and branches, old furniture and mattresses, cabinets or carpet items, bricks and concrete, block and asphalt, electronics, domestic appliances, roofing waste materials, compost or variouss crap, restaurant litter, metallic items, you name it and we will take it away for you in no time.
We can deliver our dumpsters to you if you are located in the Portand Dumpster Rental Boss metro area in the following cities: Bailey Island, Bar Mills, Biddeford, Biddeford Pool, Bustins Island, Buxton, Chebeague Island, Cliff Island, Cumberland Center, Cumberland Foreside, Falmouth, Freeport, Gorham, Gray, Harpswell, Hollis Center, Long Island, North Yarmouth, Ocean Park, Old Orchard Beach, Orrs Island, Peaks Island, Pownal, Saco, Scarborough, South Casco, South Freeport, South Windham, Standish, Steep Falls, South Cape Elizabeth, Westbrook, Windham, Yarmouth.
Here are some of the corresponding zip codes: 4101, 4102, 4103, 4104, 4105, 4106, 4107, 4108, 4109, 4110, 4112, 4116, 4122, 4123, 4124.
✓ Get a no hassle easy dumpster rental today
✓ Fast delivery and pickup at your location
✓ Serving the Portland, ME area for over twenty years
✓ Customer friendly staff and haulers
✓ Get a quote today, call 207-360-8150 now!
✓ Local family business from ME
✓ Satisfaction guaranteed
The convenience and benefits of residential dumpsters
Residential dumpsters have become an integral part of waste management systems, offering homeowners a convenient and efficient solution for disposing of large volumes of waste. These large, sturdy containers provide a range of benefits, from promoting cleanliness and environmental responsibility to facilitating home improvement projects.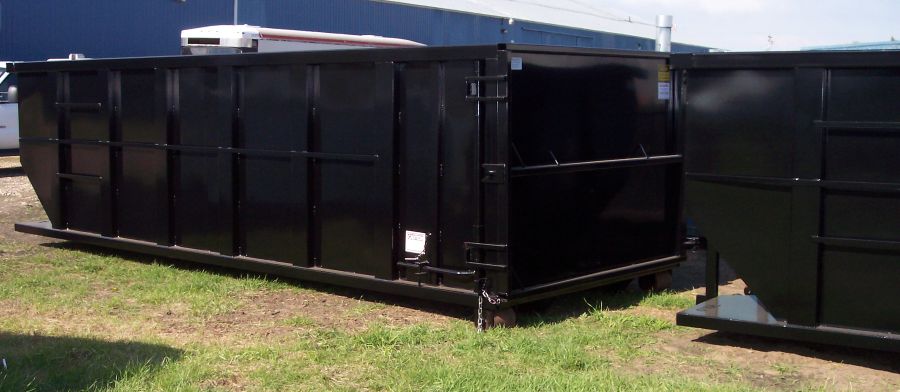 Enhanced Waste Management
Residential dumpsters play a crucial role in maintaining clean and organized neighbourhoods. With their spacious capacity, homeowners can easily discard significant amounts of waste, reducing the risk of littering and illegal dumping. By providing a centralized location for waste collection, dumpsters streamline the waste management process and help prevent the accumulation of trash around homes. This, in turn, contributes to a cleaner and more visually appealing living environment.
Moreover, dumpsters enable homeowners to dispose of bulky items, such as furniture, appliances, and renovation debris, that cannot be accommodated in regular trash bins. This feature is particularly beneficial during home remodelling projects or when large items need to be discarded. It allows for the responsible disposal of these materials, ensuring they are handled appropriately and in accordance with local regulations.
Convenience and time-saving
One of the primary advantages of residential dumpsters is the convenience they offer homeowners. Rather than making multiple trips to the local landfill or waste disposal facility, individuals can simply deposit their waste into the dumpster, saving both time and effort. This convenience is especially valuable for households engaged in extensive cleaning, decluttering, or renovation activities.
Portland Dumpster Rental Boss provides flexible time frames, allowing homeowners to choose the duration that best suits their needs. Whether it is a short-term project or an ongoing requirement, dumpsters can be rented for specific periods, reducing the hassle of dealing with waste disposal on a frequent basis. Furthermore, some rental companies offer pickup and delivery services, further enhancing convenience for homeowners.
Environmental Sustainability
It contributes to environmental sustainability by promoting proper waste disposal practices. They facilitate the separation and recycling of different types of waste, encouraging homeowners to adopt responsible recycling habits. By providing dedicated containers for recyclable materials such as plastics, paper, and glass, dumpsters make it easier for individuals to engage in eco-friendly practices.
Our dumpster also plays a role in waste reduction. When homeowners have access to larger containers, they are encouraged to consolidate their waste, which can lead to a decrease in the overall volume of garbage produced. This reduction not only minimizes the strain on landfills but also conserves resources and energy associated with waste management.
Additionally, residential dumpsters are an effective means of curbing illegal dumping. Illegally discarded waste not only damages the environment but also poses health and safety risks. By providing a legal and accessible alternative, dumpsters help deter this harmful behaviour, keeping communities clean and protected.
Portland Dumpster Rental Boss offers numerous advantages for homeowners, including enhanced waste management, convenience, and environmental sustainability. We enable the responsible disposal of large volumes of waste, support recycling efforts, and promote cleaner and more organized neighbourhoods. The time-saving aspect of using dumpsters, coupled with their ability to accommodate bulky items, makes them an ideal choice for homeowners engaged in home improvement projects or extensive cleanups. By embracing residential dumpsters, individuals can contribute to a cleaner environment, efficient waste management, and a more sustainable future.
The value of dumpsters for businesses
We play a crucial role in waste management for businesses, providing a convenient and efficient solution for the disposal of commercial waste. These sturdy containers offer numerous benefits, including improved cleanliness, enhanced operational efficiency, and compliance with waste disposal regulations.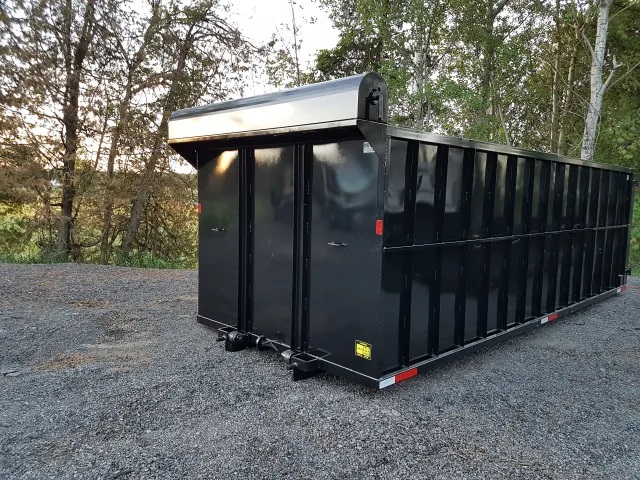 Efficient waste disposal
Dumpsters are essential for businesses as they provide a centralized location for waste disposal, allowing for efficient and organized waste management. Rather than relying on multiple small trash bins, commercial dumpsters offer a larger capacity, enabling businesses to handle substantial volumes of waste effectively. This reduces the frequency of waste collection and disposal, saving time and effort for employees.
Moreover, dumpsters are particularly beneficial for businesses that produce large amounts of waste, such as restaurants, hotels, retail stores, and manufacturing facilities. These establishments generate various types of waste, including food scraps, packaging materials, and other non-recyclable items. By using dumpsters, businesses can consolidate different waste streams in one place, facilitating waste separation and disposal according to local regulations.
Dumpsters also contribute to maintaining a clean and organized workspace. With a designated area for waste collection, businesses can prevent the accumulation of trash on and around their premises. This not only improves the overall appearance but also reduces the risk of pest infestations and unpleasant odours.
Cost-Effectiveness
We offer cost-effective waste management solutions for businesses. By renting or owning a dumpster, businesses can streamline their waste disposal process and potentially reduce expenses associated with waste collection and disposal. Instead of paying for frequent pickups or using multiple waste management services, dumpsters allow for more efficient waste management practices, potentially resulting in cost savings over time.
Our dumpsters provide a means for businesses to maximize space utilization. Commercial properties often have limited storage areas, and dedicating space for numerous individual trash bins can be inefficient. By using dumpsters, businesses can optimize their available space, creating a more organized and functional work environment.
The dumpsters also contribute to labour savings. Rather than relying on employees to handle waste disposal individually, which can be time-consuming and divert their attention from core tasks, businesses can allocate resources more efficiently by utilizing dumpsters. This allows employees to focus on their primary responsibilities, enhancing overall productivity.
Environmental Responsibility
Our dumpsters play a significant role in promoting environmental responsibility and sustainable waste management practices for businesses. By offering dedicated containers for recyclable materials such as paper, cardboard, plastics, and metals, dumpsters encourage businesses to engage in recycling efforts. This helps reduce the environmental impact associated with waste disposal by diverting recyclable materials from landfills.
The dumpsters also facilitate proper waste sorting and disposal. Businesses can implement waste separation protocols, ensuring that hazardous waste, electronic waste, and other potentially harmful materials are disposed of safely and in compliance with environmental regulations. This promotes the health and safety of employees, customers, and the community at large.
Dumpsters assist businesses in adhering to waste management regulations and avoiding penalties. Dumpsters are designed to meet specific requirements, such as size, accessibility, and appropriate labelling, ensuring businesses remain compliant with local waste disposal guidelines. Compliance not only demonstrates corporate responsibility but also contributes to a positive reputation within the community.
Improved health and safety
Dumpsters contribute to maintaining a healthy and safe work environment for businesses. Proper waste disposal is crucial for preventing the spread of diseases and the attraction of pests. By utilizing dumpsters, businesses can ensure that waste is contained and disposed of promptly, minimizing the risk of contamination and the presence of vermin or insects.
Dumpsters are particularly beneficial for businesses that produce hazardous waste, such as medical facilities or laboratories. These establishments have specific requirements for the disposal of potentially dangerous substances. By using designated dumpsters for hazardous waste, businesses can adhere to safety protocols and minimize the potential risks associated with improper handling and disposal.
In addition, dumpsters can help prevent workplace accidents and injuries. When waste is scattered or improperly stored, it can pose tripping hazards or result in cuts and other injuries. By providing a centralized and secure location for waste, dumpsters minimize the risk of accidents, creating a safer work environment for employees and customers alike.
Flexibility and scalability
Portland Dumpster Rental Boss offers businesses flexibility and scalability in waste management. Whether a business is large or small, dumpsters can be tailored to accommodate specific needs. We come in various sizes, allowing businesses to choose the appropriate capacity based on the volume of waste generated. This scalability ensures that businesses can efficiently manage their waste, regardless of their size or industry.
We also provide flexibility in terms of rental duration. Businesses can rent dumpsters for short-term projects or opt for long-term arrangements to meet their ongoing waste management needs. This adaptability enables businesses to customize their waste management strategies and adjust accordingly as their needs evolve.
Additionally, dumpsters can be strategically placed on a business's premises for optimal convenience and accessibility. Businesses can choose the locations that best suit their workflow, ensuring that employees can easily dispose of waste without disrupting their operations.
✓ Get a no hassle easy dumpster rental today
✓ Fast delivery and pickup at your location
✓ Serving the Portland, ME area for over twenty years
✓ Customer friendly staff and haulers
✓ Get a quote today, call 207-360-8150 now!
✓ Local family business from ME
✓ Satisfaction guaranteed