✓ Get a no hassle easy dumpster rental today
✓ Fast delivery and pickup at your location
✓ Serving the Portland, ME area for over twenty years
✓ Customer friendly staff and haulers
✓ Get a quote today, call 207-360-8150 now!
✓ Local family business from ME
✓ Satisfaction guaranteed
Regarding waste disposal, responsible management is crucial for the well-being of our environment and communities. Properly disposing of hazardous materials is paramount to prevent contamination and potential harm to human health. As a leading dumpster company committed to promoting sustainable waste management, we take great care when accepting and handling hazardous materials following regulations and industry best practices.
Understanding Hazardous Materials
Hazardous materials encompass a wide range of substances that pose a risk to human health, safety, or the environment due to their chemical or physical properties. These materials can include but are not limited to, chemicals, flammable substances, corrosive agents, toxic materials, and electronic waste. Proper disposal of hazardous materials is essential to prevent soil, water bodies, and air contamination, which can have severe consequences for ecosystems and human health.
Our Commitment to Safe Disposal
At our dumpster company, we prioritize safety and environmental responsibility. We adhere to strict regulations and guidelines set by local, state, and federal authorities to ensure the proper handling and disposal of hazardous materials. Our trained staff has the knowledge and expertise to handle such materials safely.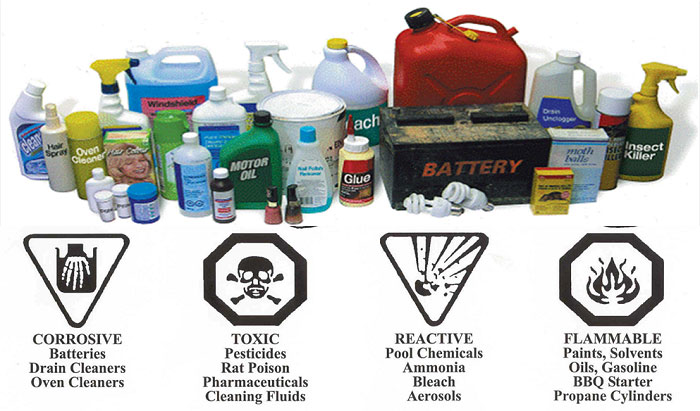 Accepted Hazardous Materials
Chemicals
Portland Dumpster Rental Boss accepts a variety of household chemicals, such as cleaning agents, solvents, paint thinners, and pesticides. However, it is essential to note that containers should be appropriately sealed, and chemicals should not be mixed. Additionally, we do not accept large quantities of industrial chemicals or highly reactive substances.
Flammable Materials
Flammable materials like gasoline, kerosene, propane tanks, and oil-based paints can pose significant risks if mismanaged. We accept small quantities of these materials, but larger volumes or industrial-grade flammable substances should be disposed of through specialized hazardous waste management services.
Corrosive Agents
Corrosive materials, such as strong acids or bases, can cause severe damage to living tissue and the environment. We accept small quantities of corrosive agents, like household cleaners, but larger volumes of industrial-strength acids or bases should be managed through specialized disposal facilities.
Toxic Materials
Various toxic substances, including certain household cleaners, pesticides, and batteries, must be disposed of responsibly to avoid harm to human health and the environment. We accept small quantities of these materials, but professional hazardous waste disposal services should handle larger volumes of industrial-grade toxic substances.
Electronic Waste
Electronic waste, or e-waste, is a growing concern due to hazardous components like lead, mercury, and flame retardants. Our dumpster company accepts small amounts of e-waste, including computers, televisions, and small electronic devices. However, larger quantities of complex electronic equipment should be recycled through dedicated e-waste recycling facilities.
Prohibited Materials
While we strive to accommodate a wide range of waste disposal needs, certain materials cannot be accepted in our dumpsters due to their hazardous nature or legal restrictions. Prohibited materials include but are not limited to asbestos, medical waste, radioactive substances, explosives, and pressurized containers like aerosol cans. Following local regulations and seeking appropriate disposal methods for these materials is vital to ensure public safety.
Proper disposal of hazardous materials is crucial for protecting our environment and communities from potential harm. As a responsible dumpster company, we prioritize safety and environmental sustainability by accepting and handling hazardous materials following regulations and best practices. By understanding the accepted materials and prohibited items, individuals and businesses can ensure the safe and responsible disposal of hazardous waste. Together, let us work.
Managing hazardous materials in the context of Portand Dumpster Rental Boss is a paramount concern for safety, environmental preservation, and regulatory compliance. The responsible disposal of such materials not only safeguards human health but also protects our fragile ecosystems.
✓ Get a no hassle easy dumpster rental today
✓ Fast delivery and pickup at your location
✓ Serving the Portland, ME area for over twenty years
✓ Customer friendly staff and haulers
✓ Get a quote today, call 207-360-8150 now!
✓ Local family business from ME
✓ Satisfaction guaranteed